Home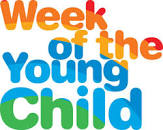 April 13-17, 2020
The Week of the Young Child™ is an annual celebration hosted by the National Association for the Education of Young Children (NAEYC) celebrating early learning, young children, their teachers, and families.

Join us each day this week as we share resources and activities to keep you and the children you serve happy, healthy and learning.

Today is TASTY TUESDAY: check out the link for some tasty, 3 ingredient recipe ideas to create with your children.