This Event Was broadcast on August 11, 2020 at 10:00 am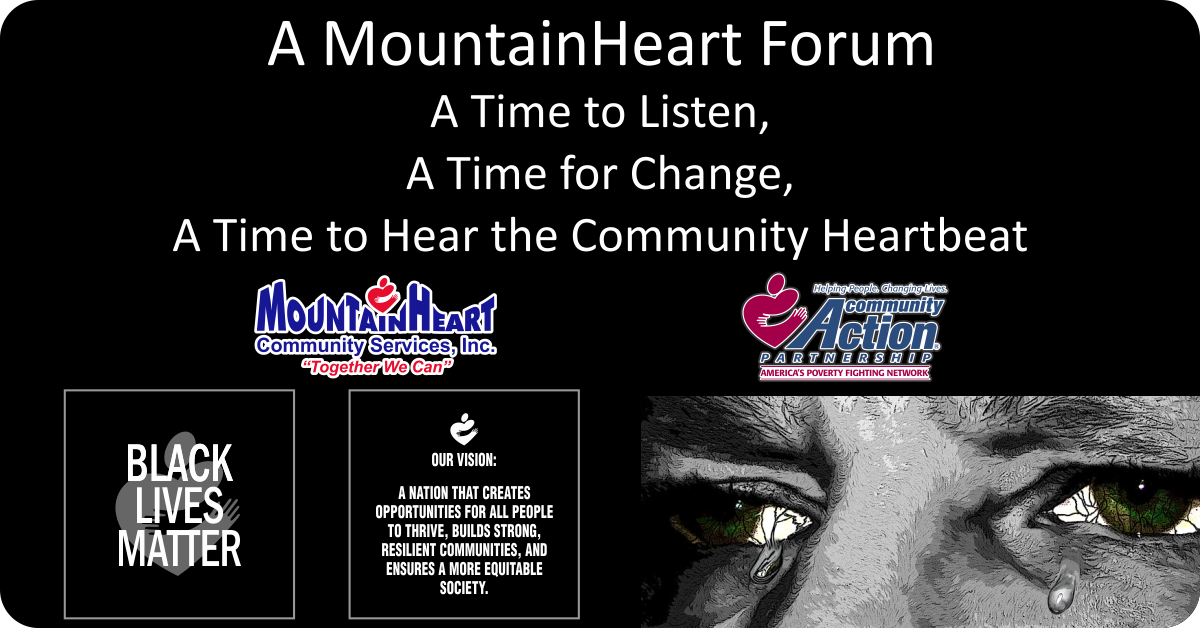 MountainHeart Community Services, Inc. invites you to join us on Tuesday, August 11 at 10:00 am for A MountainHeart Forum. The purpose of this forum is to create awareness, begin hard discussions, and to educate others on racial inequities. It is a Time to Listen, A Time for Change, A Time to Hear the Community Heartbeat.

It is our sincere desire for you to join us in this online event. Please click the link below to register for the event. Instructions to view the forum will be sent prior to the start of the forum.
Forum Panelists
See Bio Below

Executive Director for the Bond Educational Group, race scholar, college professor, PhD in Educational Leadership and Policy from WVU

See Bio Below

Social Services Degree, Master's Degree in Social Work, Youth Service Worker for Burlington United Methodist Family Services/DHHR, Youth Service Supervisor, Therapist at Life Strategies, Organizer of the Beckley Peaceful Protest

See Bio Below

Writer, Co-Founder of Rock the Mic with Purpose, Quality Assurance Analyst with Tranzact, Organizer of Beckley Peaceful (but Purposeful) Protest

See Bio Below

Minister and Organizer of the Beckley Peaceful Protest

See Bio Below

Lawyer, State Human Rights Commission, Works with victims of discrimination cases and works closely with the Attorney General Civil Rights Division

Author, Motivational Speaker,
Criminal Justice Consultant
BIOS
Executive Director
The Bond Educational Group
Dr. Jason Ottley is the Executive Director for The Bond Educational Group; a non-profit organization that invests in the lives of underserved communities through education and entrepreneurship. He is a race scholar positioned to change the way schools and organizations function by revising policies and practices entrenched in white supremacy. As a college professor, he has extensive research in developing programs and culturally relevant pedagogy. Dr. Ottley holds a Ph.D. in Educational Leadership and Policy from West Virginia University.
General Counsel
West Virginia Human Rights Commission
Cameron graduated from West Virginia University's College of Law in 1996 and began his career in a small private practice in Wyoming County, West Virginia, where he grew up. In 1998, Cameron joined the West Virginia Attorney General's Office as in-house counsel for the newly-created Division of Juvenile Services under its original Executive Director, Phyllis Carter. Cameron also worked in the W.Va. Attorney General's Consumer Protection Division for a few years before moving to a private firm in Charleston where he handled numerous consumer protection and employment discrimination cases. Cameron started as General Counsel for the Human Rights Commission in 2015, where he primarily assists investigators in examining allegations of discrimination in employment, housing, and public accommodations. In 2017, Cameron was selected to serve on the first Advisory Board for the Herbert Henderson Office of Minority Affairs and in April of 2018, Governor Justice appointed Cameron to serve as the Acting Executive Director of the Human Rights Commission until the current Executive Director was appointed in May of 2019.
Youth Service Supervisor
Shameka Mitchell received a Social Services degree from New River Community and Technical College and a Master's degree in Social Work from Concord University in 2018. She is licensed by the West Virginia Board of Social Work Examiners.
Shameka has worked as Youth Service Worker for Burlington United Methodist Family Services/DHHR. She is now a youth service supervisor which oversees behavioral issues with adolescents and their families in West Virginia. She is also a therapist at Life Strategies where her passion is women's issues, anxiety, and depression.
Shameka is active in ensuring social justice for all and passionate about making changes for the better in every way possible.
Clifton Montgomery is a writer. He has had a pen and paper in his hands for as long as he can remember (probably since he was in diapers)!
Clifton was born and raised in Beckley, West Virginia. He is a 1999 graduate of Woodrow Wilson High School, and he is passionate about writing, especially poetry and plays.
Clifton is also an avid sports fan of his beloved teams: The Washington Redskins, (team name soon to be changed) West Virginia Mountaineers, Atlanta Braves and Los Angeles Lakers.
There is a saying that "the pen is mightier than the sword." Clifton believes writing is a way to inspire and motivate others. If Clifton can inspire just one person with his writing, then his work is accomplished.
In fact, one of Clifton's proudest moments was when he wrote and directed the play called "The Gift that Destroyed the Curse." The play was about generational curses, recognizing what they are, and learning how to break their chains. This play of 25 cast members debuted at The Tamarack in fall of 2013.
Clifton also believes in the power of bringing the written word to life. He is the co-founder of "Rock the Mic with Purpose", a spoken word poetry platform for local artists to use their talents to speak about real and relatable issues affecting our society.
Clifton is also passionate about education, specifically teaching others about injustices facing the black community. On June 6, 2020, Clifton organized a "peaceful but purposeful" protest in downtown Beckley. Hundreds came out to the march, including local citizens and the Beckley Police Department. Clifton, along with the other organizers and speakers, were also interviewed by local NBC station WVVA about this protest.
For full time work, Clifton is a Quality Assurance Analyst with a company called Tranzact. Clifton is also a Christian and hopes to inspire others with his faith in Christ.
In 1991, Darrell Padgett was arrested by the United States government for the distribution of one gram of crack cocaine. Subsequently, he was charged, convicted, and sentenced to serve 37.5 years in federal prison. While incarcerated, Darrell became a self-educated lawyer. In doing so, he became educated in the American criminal justice system and its processes and procedures. He aided many prisoners in their pursuit for justice. In 2012, after fighting for justice for 20 years, Darrell was eventually successful in obtaining an early release from prison.
In 2013 and 2015, respectively, Darrell earned a bachelor's degree and a master's degree in Criminal Justice Administration from Columbia Southern University.
Additionally, he received a commendation from President Obama for his academic accomplishments upon re-entry and an acknowledgement that he is an inspiration to the Former-President.
Darrell is a Criminal Justice Consultant, a Motivational Speaker, and an author of a soon-to-be published memoir, The Kid Next Door: Criminal INJUSTICE and Me.
Pastor Damon Hamby is a committed servant of the Father of his Lord Jesus Christ. Born and raised in Beckley, WV, Hamby became a Christian in the summer of 2005, a Deacon in June of 2009, a licensed evangelist in May of 2010, and pastor of the Mount Vernon Church of Lanark, WV, in October of 2014.
Pastor Hamby is the husband of one wife, Keisha, who is choir director and songstress, and father of 2 boys, Damon Jr. and Micah.
Pastor Hamby is a published author of Kingdom Principles, a sweeping summary of key biblical principles for practical living and better understanding of God's will.
Pastor Hamby was an adjunct instructor for the School of Business at Mountain State University from 2010-2012, and currently works as CEO of the Raleigh County Educators Federal Credit Union, having obtained both a bachelor's in business management and a master's degree in strategic leadership from Mountain State University.
The essence of Hamby's ministry is to empower and equip the Body of Christ for ministry.
1 Kings 22:14 (KJV)
…As the LORD liveth, what the LORD saith unto me, that will I speak.